Macao Beach is the best place for those, striving to enjoy non-touristic Dominican Republic views without going far from the hotel. There is a wild, original, special beach, widely beloved by locals and surfers, located just 20 km from Bavaro.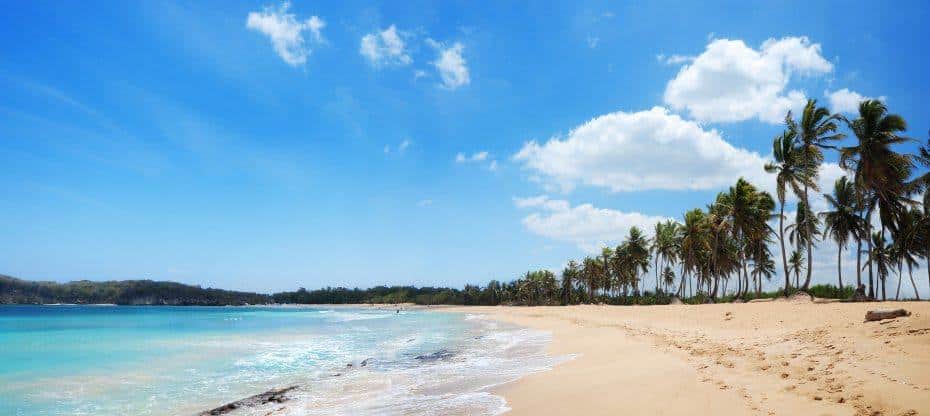 Macao beach in Dominicana
There are two options to reach it – first is to take a tour, because lots of tourist routes include visiting beach to relax and swim for 20-30 minutes, while the second option implies reaching it yourself, since public transport in this paradise country is not developed enough yet, that's why it is better to take get there by taxi or rented car. The route is short and convenient.
Why is it recommended to visit Macao? Firstly, because it is really wild without crowds of sellers, tourists and even sun loungers. The ocean there is quite deep and doesn't contain algae, gorgeous waves, endless palm trees and rocks.
The second reason to visit it is a great chance to enjoy beautiful views! Here is felt free and relaxed spirit of the Dominican Republic! Thirdly, this is the best place for surfing! Macao Serf Camp surf school is located here as well. This school allows to submit an individual lesson request while staying at the hotel. The school provides own transfer – its representatives will bring you to the place, where you will be trained to stand on a surfboard and will enjoy time spending there and finally you will be returned to your hotel! Besides amateurs and professionals have a great opportunity to rent a board here and enjoy riding!
It is worth noting that Macau is a nice place for couples in love to walk along the coast while holding hands or organize a romantic photo shoot on the rocks and enjoy magical photos!
Then be sure to taste local food after swimming and riding! There are two cafes available in Macao – one of them is situated near of the surf school, while the other one (often chosen by the locals) is located at the end of the beach near of the rocks, allowing to enjoy fresh fried fish with a crispy crust, vegetables and plane trees or grilled lobsters at affordable prices!
Besides there is a great chance to enjoy sunset after spending a day on Macao beach, which will be definitely remembered forever!