Altos de Chavon, located in the town of La Romana, is a hidden gem in the Dominican Republic that is worth exploring. With its picturesque Mediterranean-style architecture and rich cultural heritage, it offers a unique and immersive experience for visitors. To make the most of your trip, renting a car from our company is the ideal choice, providing you with the freedom and flexibility to explore at your own pace.
Starting your journey from Punta Cana, the drive to Altos de Chavon takes approximately 1 hour and 40 minutes. As you leave Punta Cana behind, you'll embark on a scenic route that showcases the stunning landscapes and natural beauty of the eastern region of the Dominican Republic. Be sure to have your camera ready, as there will be plenty of photo opportunities along the way.
Before arriving at Altos de Chavon, we recommend making a stop at the Basilica de Altagracia, which is situated on the outskirts of Higuey. This grand basilica is one of the most revered religious sites in the country, attracting pilgrims from all over the world. Take a moment to admire the beautiful architecture and soak in the spiritual atmosphere before continuing on your journey.
Once you reach Altos de Chavon, you'll be transported to a different era. This meticulously recreated medieval-style village boasts cobblestone streets, charming stone buildings, and breathtaking views of the Chavon River. Take your time to explore the narrow alleys, browse through the artisan shops, and discover unique handcrafted items such as jewelry, ceramics, and paintings.
One of the highlights of Altos de Chavon is the stunning 5,000-seat Grecian-style amphitheater, which has hosted numerous world-renowned artists and musicians. If there happens to be a performance or concert during your visit, it's an experience you won't want to miss. Imagine being serenaded by live music in this enchanting setting, surrounded by the warm Caribbean breeze.
As you wander through Altos de Chavon, you'll encounter a variety of dining options to satisfy your culinary cravings. La Piazzetta, an Italian restaurant with a charming outdoor terrace overlooking the Chavon River, offers a delightful ambiance and a menu filled with authentic Italian dishes. Café Marietta is a popular spot for breakfast, brunch, or a light lunch, offering a selection of pastries, sandwiches, and freshly brewed coffee. If you're looking for a rooftop dining experience, SBG Altos de Chavon provides a breathtaking panoramic view of the surrounding area, along with a delectable menu and a stylish atmosphere.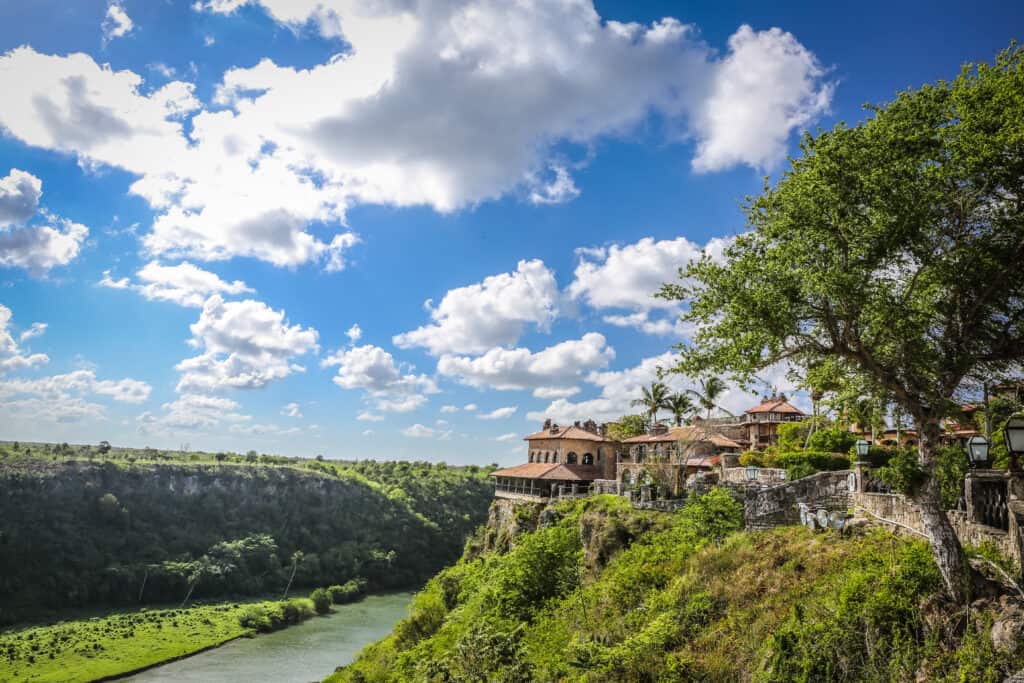 After a day filled with exploration, dining, and immersing yourself in the rich culture of Altos de Chavon, it's time to head back to Punta Cana. Reflect on the memories you've created as you enjoy the scenic drive back, cherishing the beauty of the Dominican landscape.
At our company, we strive to provide you with top-quality rental cars that ensure your comfort, safety, and peace of mind throughout your journey. Our diverse fleet of vehicles caters to your specific needs, whether you prefer a compact car, an SUV for added space, or a luxury vehicle for added indulgence.
Book your rental car with us today and embark on a memorable adventure to Altos de Chavon. Discover the beauty, history, and artistic allure of this charming town, creating memories that will last a lifetime. Let the open road be your guide as you uncover the treasures of the Dominican Republic's cultural heritage.